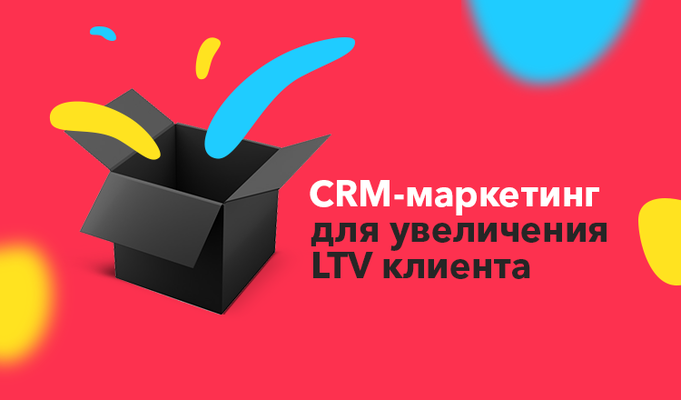 Every business, whether it's a local organic grocery store or an integrator of complex IT solutions, maintains its own contact database.
Many of these companies use CRM to see the customer journey from first call to transaction completion, but few go further and operate the database for marketing purposes.
Using your customer information in marketing activities can help increase your average check, attract new customers, help former customers return to the brand, and launch a profitable loyalty program.
The benefits are obvious, but you can only achieve success with systematic work and audience segmentation.
CRM marketing from the ground up
CRM marketing is not something completely new - this expression describes marketing communications built on the use of unique knowledge about existing and potential customers. We've already talked about what data-driven marketing is based on and how to analyze your audience to get the most out of every relevant contact. Let's just remind you that success lies in proper segmentation of your audience in conjunction with your sales team.
The basics of long-term customer engagement
According to Fivestars, a retail loyalty program developer, 60% of shoppers don't return to a store after their first purchase, but after a repeat purchase, the likelihood of converting to a brand loyal customer increases to 80%. The immutable truth begins to work - selling something to an existing customer is much easier than attracting a new one. And that's where data-driven marketing comes in to help increase customer lifetime value (LTV).
It doesn't take much to succeed: establish contact between the business and the customer, always personalize your messages to each customer and interact with customers beyond the point of sale itself, whether it's an online store or your page on the marketplace. Reminding people about yourself in mailing lists, and generating interest with temporary promotions and bonuses for regular customers are the necessary minimum of activity.
Companies that work to increase sales on a per-customer basis always use these activities to some degree. Nevertheless, according to the McKinsey report, up to 70% of long-term investments in the client do not reach their goals, they are unprofitable, and all such initiatives are wound up in the first three years after they are launched. This happens precisely because of the lack of constant work with the contact base and incorrect segmentation.
Stimulating healthy demand
Having contacts in your CRM does not guarantee an increase in LTV customers. You need to be able to correctly distribute these contacts and identify the target customer. Segment and differentiate customers on a variety of indicators.
A potentially loyal customer does not equal a customer who is already loyal to your brand and products. Why target your marketing activities and spend your bonus fund on people who already have a positive attitude toward your company and will buy anyway? You should pay attention to these people only in those moments when there is a risk of customer churn, to entice them with small one-time promotions. In other cases, it is much more profitable to attract new customers, who will be willing to spend more just with the help of your marketing activities.
Let's take a simple example, you are a customer of your mobile operator for 10 years. You are comfortable, you spend the same amount of money consistently, you are happy with the price, and you don't want to change your operator. You're loyal, but it doesn't make sense for you to spend more. As a loyal "old" customer, the operator gives you a bonus subscription to its online magazine. Will you spend more and treat the brand even better? Not really. But the company's expenditures on you will increase significantly.
Just as with contacts from a CRM system, marketing activities should drive healthy demand growth for prospects and average check growth, not encourage ineffective behavior. But the summary from the McKinsey report is disappointing: 50% of customers don't buy more, while taking advantage of all the promotions and bonuses, bringing the company only losses.
This happens in the case of wrong or insufficient segmentation. You can not mow down absolutely all customers in one comb, to get X points for each spent 1000 rubles. Each customer has a different reason for spending money, and it must be considered in your marketing activities.
Optimization of publications
The most important thing CRM marketing gives you is to work with the data you already have. You don't have to waste time endlessly searching for reports on the Internet, just look at your customers' behavior and draw conclusions. The toolkit of most CRMs allows you to easily identify different customer segments without the use of complex machine learning algorithms.
And we're not just talking about static segmentation by industry, geography or socio-demographics. The CRM-marketing module for Bitrix24, the release of which was announced on October 10, supports dynamic segmentation based on such parameters as customers with unpaid bills, customers with no transactions, customers with transactions in the last year, and so on. Depending on their sales, such clients will automatically be included in different user groups. All you need to do is to manage them properly and optimize your marketing communications.
If you integrate all your customer relations tools with CRM (call tracking, data from feedback forms and external mailing services) you will easily see who is making real orders and can potentially pay even more. Understand who will be marginal for your loyalty program and be able to set up automatic triggers for the right audience segment.
Advertising by segment
Data-driven marketing will reduce advertising costs. It used to be that you had to stick ads on every billboard in town to re-engage customers and tell them about new company promotions. Now all you have to do is set up context on the customer segment that is relevant to you.
Importantly, there are already solutions that allow you to manage your ad campaigns and configure them directly from the CRM.
For example, by the end of 2017, Bitrix24 will allow you to create advertising offers for Google and Yandex, as well as for the most popular social networks Facebook, Vkontakte and Instagram without transferring email addresses and phone numbers to third-party platforms.
You can experiment with similar audiences on Facebook (lookalike audiences), send personalized discount offers to customers on a spot basis and turn off ineffective advertising tools much faster. All data for analysis is stored in your CRM, the main thing is to remember to analyze your customer data regularly and adjust your activities based on it.