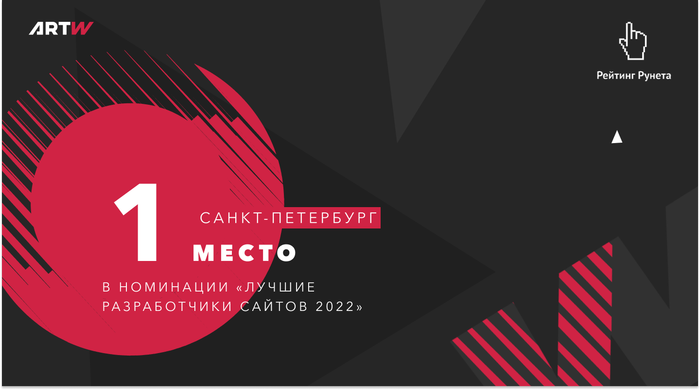 On April 14, the Runet Rating analytical project published its annual ratings of web studios in the Russian segment of the Internet. The leading companies with the highest level of annual turnover, number of projects and industry awards in various service segments became known.
Nearly 2 500 agencies participated in the project, which published over 104 thousand works.
The IT-company ARTW took 1st place in website development among St. Petersburg companies, and 14th place among all Russian web studios.
Developers of integrated enterprise solutions for more than a year occupy a leading position in the market of digital services for Russian business.

"We participate in ratings every year and are very concerned about the results. This is always a big event for the team, because the position in the rating as an indicator shows the success of all departments throughout the year. We have more than 20 years of experience in developing complex projects with user-friendly and attractive interfaces, as well as in brand support and development. During this time we have grown to a company of almost 100 professionals, and for each of us the rating - is recognition of expertise and motivation to move forward and conquer new heights "- Yaroslav Shapoval, creative director of IT-company ARTW.
The rating is absolutely transparent and reflects the development of the industry as a whole.
Evaluation of participants is conducted impartially and is based on documented information about the financial performance, awards and project work with clients.
A slice by profile segment of the ranking:
1st place among online store developers in the premium segment, St. Petersburg
3rd place in the ranking of website developers for retail, Russia
4th place in the rating of developers of sites for eCommerce, Russia
8th place in the corporate solutions developers rating, Russia
7th place in UX-contractors rating among largest corporate clients, Russia
4th place among CRM-integrators, St. Petersburg
The most anticipated "Top 200" rating is one of the oldest and most authoritative in the Russian segment.
It has been published since 2010 and helps customers of digital services to orient in the market and competently select contractors.
The methodology of rating construction is regularly improved, new niches are added, and the approach to assessment becomes more complex.