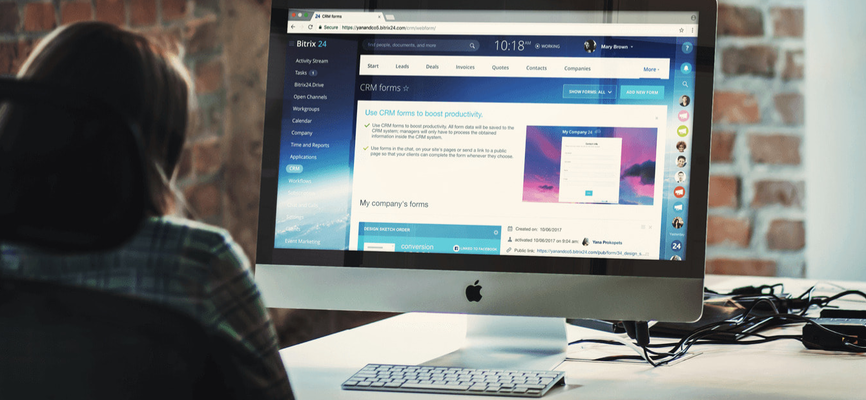 The market is rapidly evolving and dictates new rules for online commerce.
People are looking for maximum convenience: we no longer want to leave platforms to make purchases, we want to do it here and now at the snap of our fingers.
New trends are coming out, so it's time to make a bold decision: "What if we combined everything we love so much into a single platform and tried to take sales to a whole other level?"
Thus was born the innovative robotic eCommerce platform "1C-Bitrix24: Web Store+CRM", which combines the already familiar tools of products such as "1C-Bitrix: Site Management" and Bitrix24, as well as new ones that allow you to look at sales from a different angle.
What can we do now to conduct and promote business?
Combine orders from all channels in one place: from internet-shop to social networks.
Sell to customers where it is convenient for them: Facebook, Instagram, Telegram, Viber and others - modern sales channels that you can work with without leaving the platform. Everything is simple and straightforward.
Even despite the departure of customers in messengers and social networks, the online store remains an important sales channel. Now you can use the site to its full potential:
add directories;
manage discounts;
label the goods;
connect the cash register, and much more.
You no longer have to make unnecessary movements, because the orders are immediately appear in the CRM and ready for further processing. All interaction with the customer will occur in real time within the deal card.
The updated platform supports all social and digital channels of communication with the client: email, phone calls and social networks.
Now you can easily automate the work by shifting some of the responsibility to robots. This reduces processing time by 80% and speeds up the sales process for both employees and customers:
notifications;
invoice generation;
registration of delivery;
tasks for the manager.
Separate work was done with delivery services, in particular with the Russian Post. Now it is possible to assess the risks of sending an order by cash on delivery: the system will show if the buyer has not picked up the goods at least once.
It is now possible to select categories and label goods in the shopping catalog. When paying or shipping, the program will refuse to perform the task if you have made a mistake.
Built-in end-to-end analytics will help you evaluate effectiveness across all inbound advertising channels. You no longer have to calculate rates, analyze and choose the best option. The platform will show and tell you which parts of the ads don't pay off, and which sources give the best results. The rest is in your hands.
Today instead of being torn between two platforms you get not just the integration of your online store with 1C, but also full-featured tools for sales: Contact Center, CRM-marketing, CRM-analytics and cross-analytics.
When you upgrade to a new class platform "1C-Bitrix24: Online Shop+CRM" all orders are converted correctly without any losses or changes.
How do you like the changes and new features from Bitrix?